I, Joan Tickets, Shakespeare's Globe, London
Shakespeare's Globe Venue Information
Address:
Shakespeare's Globe
New Globe Walk, Bankside
London
SE1 9DT

Travel by train: Cannon Street. Nearest tube: Mansion House/Cannon Street/London Bridge
Shakespeare's Globe is a is a reconstruction of the Globe Theatre, an Elizabethan playhouse in the London Borough of Southwark on the south bank of the River Thames which was destroyed by fire in 1613. The modern reconstruction was founded by the actor and director Sam Wanamaker and built approximately 230 metres (750 ft) from the site of the original theatre. The theatre was opened to the public in August 1996 with Jack Shepherd's 'Prologue Production' of The Two Gentlemen of Verona starring Mark Rylance as Proteus. The formal opening Gala was held in 1997.

HISTORY OF THE SHAKESPEARE´S GLOBE

The original Globe Theatre was built in 1599 by the playing company, Lord Chamberlain's Men, to which Shakespeare belonged, and was destroyed by fire on June 29, 1613. The fire was caused by an accident with a cannon during a production of Henry VIII. The theatre was rebuilt by June 1614 (the exact opening date is not known), but was officially closed by pressure of Puritan opinion in 1642 and demolished in 1644.

In 1970 American actor and director Sam Wanamaker, founded the Shakespeare Globe Trust, and International Shakespeare Globe Centre with the objective of building a faithful recreation of Shakespeare's Globe close to its original Bankside, Southwark location. While many had said that the Globe reconstruction was impossible to achieve, he persevered for over twenty years, and eventually a new Globe theatre was built according to a design based on the research of historical advisor John Orrell.

The theatre opened in 1997 under the name "Shakespeare's Globe Theatre" and now stages plays every summer. Mark Rylance was appointed as the first artistic director in 1995 and was succeeded by Dominic Dromgoole in 2006.

The new theatre on Bankside is approximately 230 metres (750 ft) from the original site, centre to centre, and was the first thatched roof building permitted in London since the Great Fire of London in 1666.

As in the original Globe, the theatre has a thrust stage that projects into a large circular yard surrounded by three tiers of steeply raked seating.

The only covered parts of the amphitheatre are the stage and the (more expensive) seated areas. Plays are staged during the summer, usually between May and the first week of October, and in the winter the theatre is used for educational purposes. Tours are available all year round.

The reconstruction was carefully researched so that the new building would be as faithful a replica of the original as possible. This was aided by the discovery of the remains of the original Globe Theatre as final plans were being made for the site and structure. Performances are staged in a manner which is as close as possible to the original environment; there are no spotlights, the plays are staged during daylight hours and in the evenings (with the help of interior floodlights), there are no microphones, speakers or amplification. All music is performed live on period instruments, the actors can see the audience and the audience can see each other, adding to the feeling of a shared experience and community event.

The building itself is constructed entirely of English oak, with mortise and tenon joinery - no structural steel was used. It is, in this sense, an "authentic" 16th century timber-framed building. The seats are simple benches (though cushions can be hired for performances) and the Globe has the first and only thatched roof permitted in London since the Great Fire of 1666. The modern thatch is well protected by fire retardants, and sprinklers on the roof ensure further protection against fire. The pit, however, has concrete flooring as opposed to the earthen ground covered with strewn rush in the original theatre. The "authentic" theatre has extensive backstage support areas for the actors and musicians and is attached to a modern lobby, restaurant, gift shop and visitors' centre for the public. Seating capacity is 857 with an additional 700 "groundlings" standing in the pit, making up an audience about half the size of a typical audience in Shakespeare's time.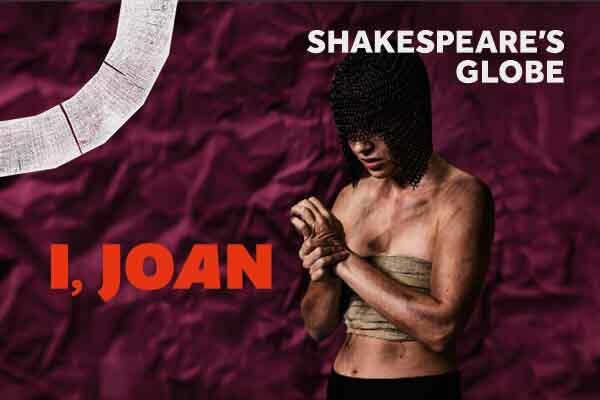 I, Joan Tickets
Shakespeare's Globe, London
Venue info
Running time: To be confirmed.
Age Restrictions: To be confirmed.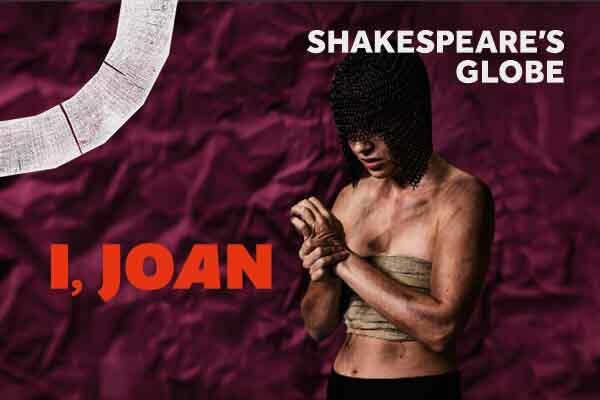 A stunning new play about an unlikely hero
A cry for courage erupts in the Globe Theatre this Summer with the premiere of I, Joan, a powerful new play uncovering the unlikely hero behind the legend.

The men are all fighting, again. An endless war. From nowhere comes an unexpected leader. Young, poor, female and about to spark a revolution. This is Joan.

Join us in the wooden 'O' and feel the heat of the sun, the drench of the rain, and the pulse of Joan's passion. With open hearts and raised voices, we invite you to dance and cheer with us as we rediscover Joan's story.

Written by Charlie Josephine (Bitch Boxer) and directed by Ilinca Radulian (Co-Director, Richard III, Globe).

'There's a whole sky inside of you! I wish we'd all remember that.'
---
No events available right now
Buying Tickets Safely
Are You New To Gigantic?
As a first time buyer you may be nervous about purchasing tickets through a company you've not used before. This is completely understandable, which is why we want to put your mind at ease and assure you that Gigantic Tickets are a safe, reliable place to buy tickets from a primary ticket agent. We are full members of STAR - the society of Ticket Agents and Retails. STAR is the leading self-regulatory body for the entertainment ticketing industry across the United Kingdom.
STAR members include all major UK ticket agencies as well as Gigantic Tickets and numerous venues and box offices in London and across the country. There are also associate members in other industries (such as travel) where entertainment ticketing forms part of their business and affiliate members who do not sell tickets directly to the public but support STAR's work.
What Does Full STAR Membership Mean?
Buying entertainment tickets from a STAR member - in person, by phone or online - enables you to buy with confidence, as all members sign up to STAR's Code of Practice, which requires them to treat customers fairly and make all transactions clear and straightforward.
Why Buy From A STAR Member?
Customers buying from a STAR member will benefit from:
A means of differentiating reputable agencies and box offices from potentially less scrupulous ticket sellers.
The STAR assurance on standards of service and information from members.
Clear information about where and how to buy entertainment tickets.
An independent dispute resolution service.
Gigantic Tickets sell all of our tickets directly from the venues and promoters, which means we are a safe, reliable place to purchase tickets at their face value.
Peace of Mind
To give you complete peace of mind you can find Gigantic Tickets on STAR's current full membership list here and verify our full membership by clicking here.
For more information about STAR please visit their official website here.
You can find more information about ticket purchasing, ticket security, ticket delivery and much more on our FAQ's page here, as well as on our Terms & Conditions page here.
You may also want to take a peek at our Privacy Policy too so you know you really are in the safest of hands.
Contact Us
We appreciate reading through our web pages might take you a little while to find the answer you are looking for, so please feel free to get in touch with us directly and our team will do their utmost to answer any queries you might have:
Contact us: Click here to find your order and contact us Address : Gigantic, 3-5 High Pavement, Nottingham, NG1 1HF

© Copyright 2015 Bauer Media. All Rights Reserved.
All use is subject to our Terms & conditions, and Privacy Policy.