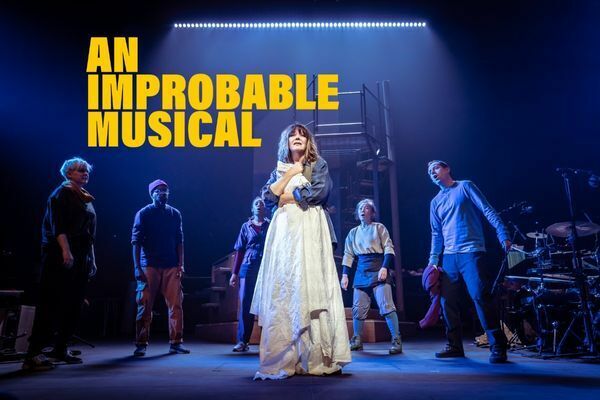 An Improbable Musical Tickets
Hackney Empire, London
Venue info
Running time: 1 hour 30 minutes (no interval)
Age Restrictions: This show is recommended for 14+.
An Improbably Musical comes to Hackney Empire Theatre London for a night of improvisation!
Theatre as live as it gets. Come and witness the creation of a brand-new musical, every night!

You want to know a secret? The best bits of any show, you never get to see: beautiful moments of discovery, fresh minted gags, a story coming alive for the first time – all this happens in the rehearsal room. Less of a secret is that you never see the worst: dead ends, duff choices, bits that don't fit.

But what if we let you in on the secret and put them ALL on the stage: triumphs, disasters, the wonderful and the what-the-hell? How? By improvising from scratch a new show made especially for the audience that night. Story, song and puppetry conjured from the unlikeliest materials by matchless performers and every moment of creation (or lack of it) witnessed by you. Definitely not an attempt to improvise the "classic" musical but an unapologetic experiment in starting with nothing and seeing where we end up.

The show is directed by Improbable Co-Artistic Director Lee Simpson (70 Hill Lane, Lifegame, Theatre of Blood, Comedy Store Players) who also performs. Joining Lee is a cast of seasoned improvisors including Josie Lawrence (Whose Line Is It Anyway; Good Omens, Amazon/BBC; The King and I, London Palladium), Ruth Bratt (People Just Do Nothing, Showstopper! The Improvised Musical) Niall Ashdown (Tristan and Yseult, Kneehigh, Whose Line Is It Anyway), Aya Nakamura (collaborator with Horse+Bamboo and Theatre Rites) who also designs and directs puppetry in the show and Clarke Joseph-Edwards (Big Up, Tails of Sailortown, The Very Hungry Caterpillar live show).

Improbable are maestros of improvised theatre, who for three decades have created make-it-up-as-you-go-along shows that have captivated audiences across the world from off-Broadway to the National Theatre. It might be hilarious or heart-breaking, anarchic or eerily atmospheric but their first ever improvised musical aims to spin theatrical magic out of thin air.
---
No events available right now